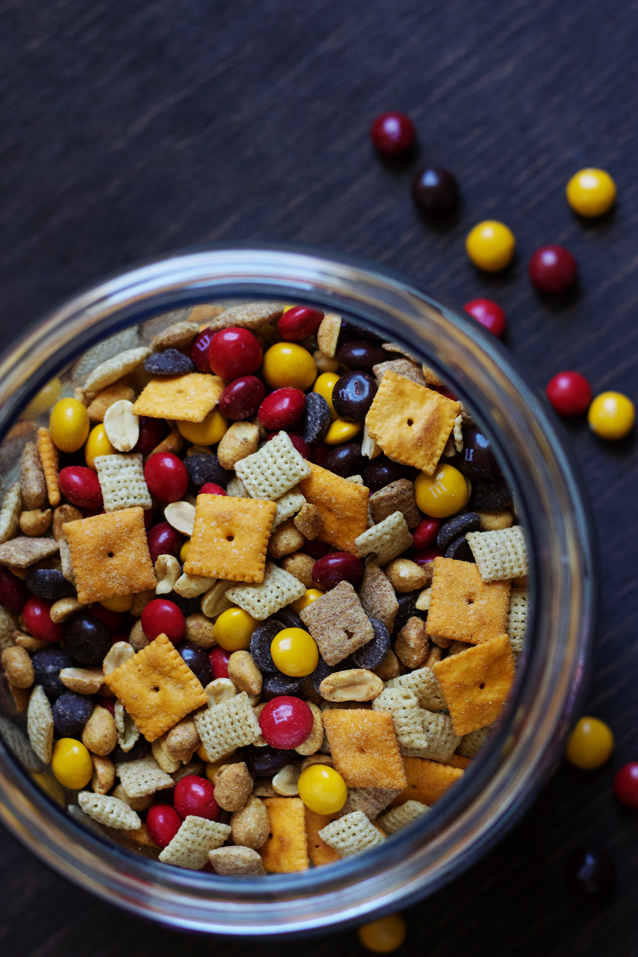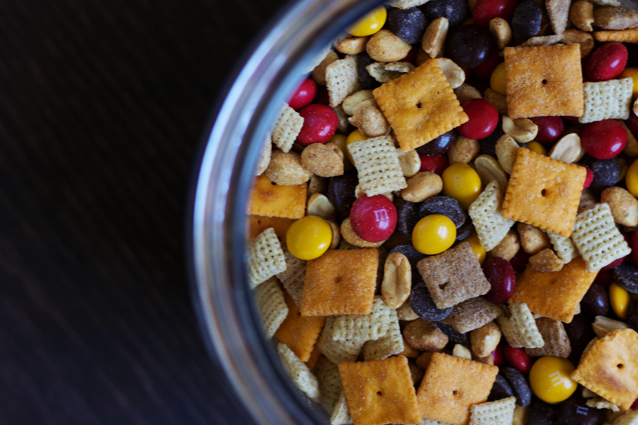 Fall munch mix . . .
It's the perfect tailgating treat–savory, sweet and just a little bit salty.
I whipped up a batch of this fall munch mix and have been snacking ever since. It combines all of my favorite flavors into one satisfying bite. The Cheese Nip to dark chocolate ratio is spot on. Don't believe me? Give it a whirl.
1 box Cinnamon Chex Cereal
1 box Cheese Nips
1 bag dark chocolate morsels
1 bag seasonal M&Ms
2 c. roasted + salted peanuts
In a large bowl, combine all the ingredients. Store the mix in a glass jar and cover it with a lid to keep the ingredients from becoming stale. It's so bright and festive–it'll be a cute addition to your decor.
To serve on game day, I like to fill small plastic cups with individual servings. It's an easy way to keep your guests snack happy.
Looking for more tailgating ideas?
Today's post is part of The Blogger Bowl. It's a series we started to celebrate football season. Follow along on social media using #TheBloggerBowl, and scout out the rest of our blogger lineup here:
Liz from Pretty Sweet Life  |  Molly from Hey There Sunshine  |  Beth from Bethcakes
Meredith from Meredith Noelle  |  Rachel from Stupid Good Rachel | Katie from Twin Stripe