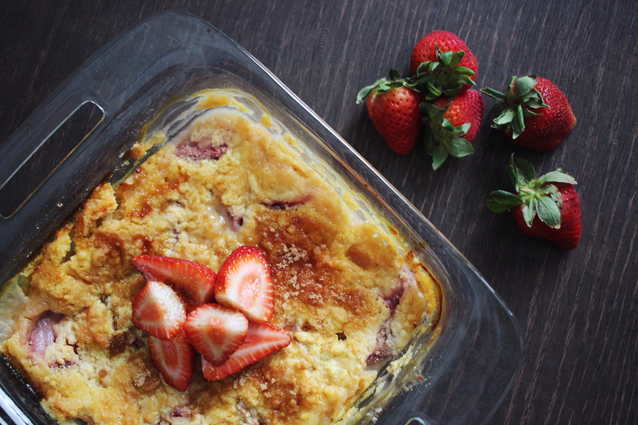 Strawberry + peach cobbler . . .
When company is in town, there's always time for dessert. This recipe is as easy as they come, beautifully rustic and calls for just minutes of prep. We like to serve our cobbler hot out of the oven with fresh berries or a scoop of vanilla ice cream.
Strawberry + Peach Cobbler
2017-04-02 12:58:51
Ingredients
1 box yellow cake mix
2 cans peaches in lite syrup
8-10 fresh strawberries, sliced
2 tsp. cinnamon
a pinch of salt
brown sugar + cinnamon, sprinkled for garnish
Instructions
Preheat the oven to 350 degrees.
In a glass baking dish, layer the canned peaches and the fresh strawberries. You'll want these to be evenly dispersed so each bite is delicious.
Combine the boxed cake mix, cinnamon and salt in a separate bowl, and poor the dry mix on top of the cobbler fruit layer. Lightly press down on the mix so it begins to combine with the fruit and syrup.
Bake the cobbler for an hour* or until the top is golden and set.
Serve the cobbler hot out of the oven with fresh berries, ice cream and an additional sprinkling of brown sugar + cinnamon.
Notes
Each oven varies in temperature. You'll want the cake portion to fully form and set on top so keep an eye on the cobbler while baking. It should also be golden brown.
Finding Beautiful Truth https://www.findingbeautifultruth.com/