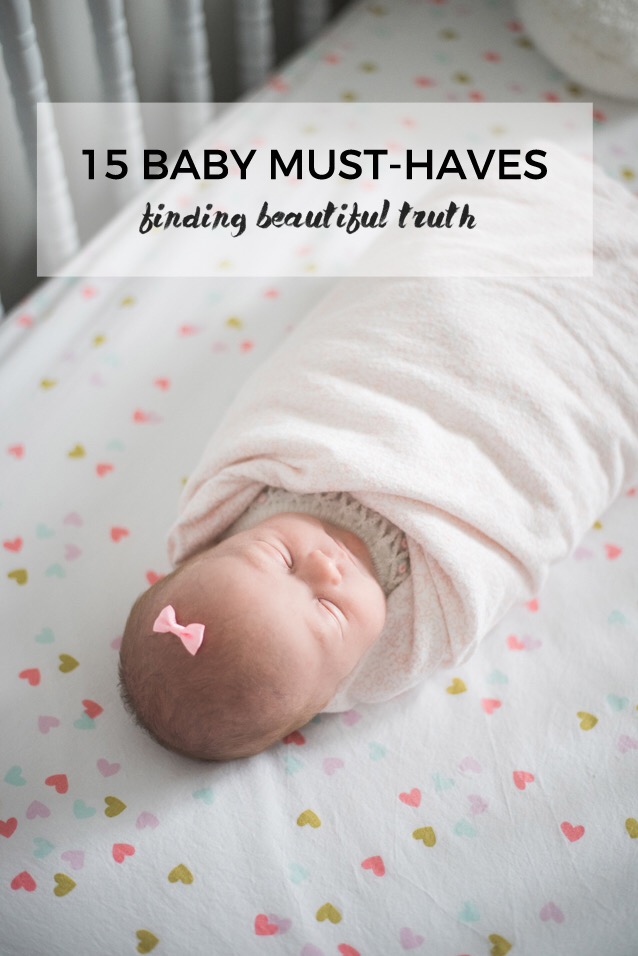 Baby must-haves . . .
When it comes to shopping for a little one, there are so many gadgets, gizmos and products to choose from. I've rounded up my baby must-haves for the early days. These are things we love and use just about every single day.
Sleeping + Lounging
Halo Sleepsack
These sleepsacks are one of the tricks we picked up from Mary Jane's time in the NICU. They come in multiple colors and offer the swaddle option or arms free.
Boppy Newborn Lounger
I love this lounger so much that I've purchased it for multiple friends as baby shower gifts. It comes in under $30, and Mary Jane happily lounges along side me wherever I go.
Snuza Movement Monitor
There's always a sense of anxiety when it comes to bedtime, and we can't help but worry. Souza's movement monitor puts our minds at ease (and it helps that it also has a ton of positive reviews).
Baby Monitor
At three months, we started putting Mary Jane in her crib for naps and have been working toward a full night of sleep. I like this version because it shows the time and temperature, too.
Diaper Changing
Wipe Warmer
Diaper changes can be a bit dramatic so warm wipes make all the difference. Munchkin's wipe warmer holds 100 wipes at a time and doubles as a night light.
Diaper Pail
There's nothing worse than a dirty diaper that sinks up the entire nursery. Cue a diaper pail. This steel version is sleek, minimizes smells and fits standard kitchen trash bags.
Changing Pad Liners
When things get messy (and they do!), it's nice to have the option of a quick cleanup. These changing pad liners are washable, and I can switch them out in a jiffy.
Baby Wipes in Bulk
If there's one thing you can never have enough of, it's baby wipes. We order ours in bulk from Amazon (more about that here) because they arrive within days and are delivered directly to my door.
Organizing/Storing
Woven Baskets
To keep clutter at bay, I picked up multiple sizes of woven baskets before Mary Jane was born. The prettier styles double as nursery decor, and the more ultitarian versions are perfect for dresser/closet organization.
Padded Baby Hangers
The majority of Mary Jane's wardrobe is made up of my baby clothes–I LOVE dressing her in vintage. These padded baby hangers are the ideal solution for hanging delicate items. Plus, they're pretty dang cute.
Utility Cart
We keep a utility cart beside Mary Jane's dresser + changing pad to store all the necessities. It's the perfect home for things like diapers, wipes, burp cloths, bibs, lotions and creams.
Extras
Soothie Pacifiers
We were introduced to these pacifiers in the NICU, and now we buy them in bulk. Teething tip: store them in the freezer for instant relief. We call them baby pops (AKA popsicles).
Amazon Dot
Mary Jane loves listening to music so we use our Amazon Dot during tummy time, bath time and while we're changing diapers. It's both a good distraction and a fun way to break up the day.
Forehead Thermometer
As a new parent, sickness is one of our greatest fears. We've used this forehead thermometer more times than I can count. Thankfully, many of which were just paranoid false alarms.
Stroller, Carseat + Bassinet Set
If there's one item to splurge on, it's definitely a stroller. We use our set by Nuna multiple times a day, and I am so pleased with it's ease and functionality. The carseat clips right in, or I can swap for the bassinet.
I'd love to hear from you mamas out there. What are your baby must-haves?
photo from our newborn shoot with Chelsie Starley